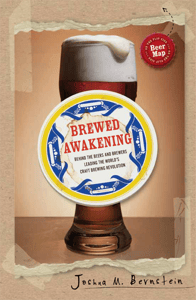 $

20.95 - On Sale
With the holidays right around the corner, it's high time you had a Brewed Awakening, Joshua M. Bernstein's definitive take on the craft beer revival.

Price ($20.95!—$4 off list price and you get to directly support an author!): Besides an autographed copy of the hardcover, full-color book (the cover folds out to double as a beer map!), you'll receive a limited-edition button or two. Please email me your custom dedication (up to 30 words) after your purchase: josh.bernstein[at]gmail.com.
Cost includes shipping and handling within the continental United States. For orders outside the lower 48, additional postage may apply. Books will be sent via USPS media rate in padded envelope or heavy-duty box for an order of multiple books. Please allow two to three weeks for processing and shipping. If you need the books faster, I'm happy to speed it along via UPS or FedEx. Please email me for a price quote.
If you have any questions, please contact me at josh.bernstein[at]gmail.com.
***
Praise for Brewed Awakening:

"Brewed Awakening does an excellent job of immersing the reader right into the heart of what craft beer is all about. Hardcore beer geeks and newcomers to the craft beer revolution alike will find a wealth of fascinating, and fascinatingly cool, information on every page." --Greg Koch, CEO and cofounder, Stone Brewing Co.

"Brewed Awakening has something for every beer lover, but I think it is most ideal for upping the beer IQ of those just entering our ranks. It demystifies the brewing process and the international craft brewing movement." --Sam Calagione, president and founder, Dogfish Head Craft Brewery